What is an "accredited" commercial real estate investor and why does it matter?
Posted by
Jamestown Invest
on August 12, 2020

Under federal securities laws, traditionally only wealthy accredited investors may participate in certain types of investments, such as real estate private equity offerings, hedge funds or venture capital funds or investments. The SEC defines an accredited investor in Rule 501 of Regulation D, the full text of which is available here.
To spare you some of the more technical, legal language, this is what it breaks down to*:
An accredited investor must be in one of the following categories:
- An individual with an annual income of $200,000 or more (or $300,000 for joint income) for the last two years;

- An individual (or jointly with spouse) with a net worth of $1 million or more (excluding the value of the person's primary residence);

- An individual who is a general partner, executive officer, director, or a related combination thereof for the issuer of unregistered securities;

- An entity that is a business development company or an organization with assets of $5 million or more;

- An entity that consists of equity owners who are accredited investors;

- Registered brokers and investment advisors;

- An employee benefit plan, within the meaning of the Employee Retirement Income Security Act, if a bank, insurance company, or registered investment adviser makes the investment decisions, or if the plan has total assets of $5 million or more.
The JOBS Act Expands Access to Private Offerings
In 2012, Congress passed the Jumpstart Our Business Startups (JOBS) Act, and the SEC later implemented rules to open private offerings to a wider audience as compared with traditional private offerings limited to accredited investors only. The JOBS Act rules allow issuers to utilize digital marketing to communicate with potential investors and technology to streamline the investment process through online platforms. Following passage of the JOBS Act and subsequent regulatory reforms, almost all Americans can now access private offerings through an exemption called Regulation A+. These offerings require detailed public filings with the SEC, which disclose the company's investment strategy, business plan, track record and potential risks.
Do I have to be an accredited investor to invest through Jamestown Invest?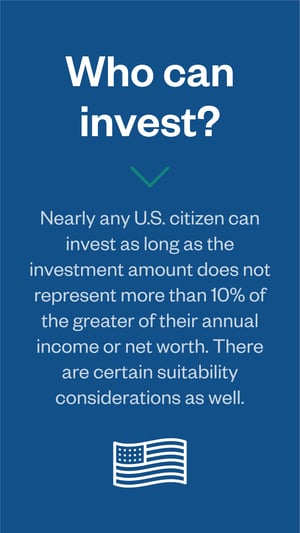 Short answer: Both accredited and non-accredited investors can participate in Regulation A+ offerings like Jamestown Invest 1, LLC through our online investment portal, which features a minimum investment of $2,500 for individuals, as long as certain suitability requirements are met.
For more information, you should review the offering circular at www.jamestowninvest.com/OC.
Investing in Jamestown Invest 1, LLC's common shares is speculative and involves substantial risks. The "Risk Factors" section of the offering circular contains a detailed discussion of risks that should be considered before you invest. These risks include, but are not limited to, illiquidity, complete loss of invested capital, limited operating history, conflicts of interest, blind pool risk, and any public health emergency. In addition to the foregoing risks, the adverse economic effects of the COVID-19 pandemic are unknown and could materially impact this investment. Further, there is no assurance that Jamestown Invest 1, LLC will be able to achieve its investment objectives or to access targeted investments like those identified.
Educational Communication
The views expressed above are presented only for educational and informational purposes and are subject to change in the future. No specific securities or services are being promoted or offered herein.
Not Advice
This communication is not to be construed as investment, tax, or legal advice in relation to the relevant subject matter; investors must seek their own legal or other professional advice.
Performance Not Guaranteed
Past performance is no guarantee of future results. Any historical returns, expected returns, or probability projections are not guaranteed and may not reflect actual future performance.
Risk of Loss
All securities involve a high degree of risk and may result in partial or total loss of your investment.
Liquidity Not Guaranteed
Because of the illiquid nature of our shares, you should purchase our shares only as a long-term investment and be prepared to hold them for an indefinite period of time.



Jamestown Invest is a digital platform that connects investors with rigorously-vetted, institutional-quality real estate. Invest alongside a well-capitalized, stable, and reliable manager with $12.1 billion of assets under management worldwide on behalf of more than 80,000 investors across 31 realized funds (as of December 31, 2020).