Understanding Real Estate Cycles
Posted by
Jamestown Invest
on November 17, 2020

With ongoing uncertainty in the financial markets, investors are scratching their heads about where the economy goes from here. While even the savviest investors cannot predict the market, it is essential to understand demand drivers that impact the economy and how that could specifically affect real estate fundamentals. Individual investors may consider implementing various strategies to potentially increase returns and mitigate risk during these specific timeframes.
Since real estate may be new to some investors, we will explain how real estate cycles work and why they are critical to understand. In general, interest rates, economic vitality, and government subsidies all affect real estate market cycles.

What are the four phases of market cycles?
There are four phases to the real estate cycle - recovery, expansion, hyper supply, and recession. The cycle repeats so that the last cycle's recession leads to the next cycle's recovery period.
According to a paper penned by Glenn Mueller, a professor at Johns Hopkins University, a simple way to observe phases of a market cycle is by plotting the current occupancy over time. When demand for housing (or indirectly, commercial real estate) outpaces supply, we have an upcycle. There are two types of upcycles, recovery and expansion. Conversely, if supply exceeds demand for real estate, we observe a down cycle in the form of hyper supply and a recession. Eventually, the occupancy normalizes over time in the form of a long-term occupancy average or "LTOA". It's important to note, the LTOA is specific to an asset class and geographic location.
Recovery

The start of recovery is defined by the end of a recession. Coming off a period of high unemployment, multiple quarters of declining Gross Domestic Product (GDP) figures, and lower consumer confidence, real estate developers seek a pulse for new housing demand. Historically, interest rates fall during a recession and slowly increases during a recovery which may provide a glimmer of hope for new demand. Coupling a low-interest rate environment with potential government subsidies within a recovery translates into declining vacancies. At this point in the cycle, developers are reticent to build with uncertainty in the market. However, for opportunistic investors who can identify underperforming or undervalued properties in areas exhibiting strong population growth, there is the potential for outsized returns.
Expansion

At an inflection point where demand growth rates exceed supply growth rates, expansion occurs. Typically, employment improves, consumers are spending more, which translates into a healthier economy. During this period, interest rates generally rise, and subsidies have evaporated as individuals no longer need government support. Since demand outpaces supply, rents start to increase. Developers are eager to squeeze out one more project during this increased level of economic prosperity. The apex of occupancy turns into a period of hyper supply from overbuilding.
Hyper Supply
Declining occupancy rates start to move down towards the LTOA as the supply for housing exceeds demand. Since developers are having a more difficult time selling or renting real estate, construction slows. The economy starts to feel overheated since GDP growth leads to higher inflation and interest rates. The government may attempt to extend economic growth by managing the money supply and interest rates to avoid the economy spiraling into a recession. During this period, real estate investors may consider investing in more stable core or core-plus real estate to mitigate risk. Alternatively, real estate with long term leases and investment-grade tenants might be a sound investment heading into a recession.
Recession
By definition, a recession is defined by two successive quarters of negative GDP growth. Consumer spending is reduced, unemployment is at its peak and the economy is contracting. At this point, real estate owners have high vacancies and potentially need to offer rent concessions to retain tenants. Given this dynamic, occupancy rates drop as demand for real estate wanes. For well-capitalized real estate investors with a long-term investment horizon, strategic investments during this period could allow for strong returns as the cost (or "basis") could be low, allowing for the potential for strong in-place yield at stabilization or profit upon sale.

Why are real estate cycles important to understand?
It is impossible to time the market; however, allocating capital programmatically over a long investment horizon helps to even your cost basis. This is commonly known as dollar-cost averaging. Additionally, since the duration of each market phase is unknown, investors may consider strategically laddering maturities. Laddering maturities involves diversifying into investments that have different hold periods, otherwise known as term. For example, having investments that redeem the principal at three, five, and seven years helps reduce risk when exiting investments and reinvesting at that moment in time.
Real Estate cycles vary significantly by geography and asset class. Due to many factors within a metropolitan statistical area (MSA) such as population migration, affordability, and job growth, certain areas may have elongated market phases. Although there is much uncertainty with the pandemic, population outflows in some cities are benefitting others, which has impacted demand for real estate. Furthermore, undoubtably the hotel industry is exhibiting significant headwinds, with occupancy hovering at all-time lows. These trends can reverse as market cycles oscillate.
Another position an investor may take when considering investing across different phases of market cycles is to concentrate exposure to various securities types in the form of payment priority, or in other words, varying parts of the capital stack. During an extended period of economic prosperity, investors who are nervous about a potential downturn might consider allocating capital to debt investments. Not only do debt investors have a payment priority from cash available for distribution from the underlying real estate, but they are also are first in line to get repaid principal once the property is sold or refinanced. Although the returns are typically lower, and the upside is capped compared to equity investors, the risk exposure is lower. Furthermore, if there is a default on payments, the lender can foreclose on the property and take title to the property. On the other hand, equity investors take on more elevated risk since this part of the capital stack is last for repayment. With equity, no repayment is required. Since equity investors have a higher risk, the upside is unlimited and potential returns are greater if the business plan is executed. Equity investors might consider opportunistically investing during recovery or a recession since your cost basis could be lower. Preferred equity is subordinate to debt but senior to equity for payment priority and rights in the event of default.
Below is a visual representation of what is described as the "capital stack".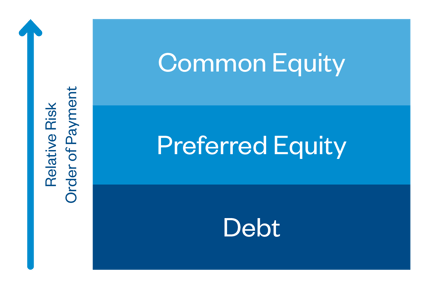 What is the market today and what does this mean for real estate investors?
There is no doubt the economy continues to find footing amidst the pandemic. Investors may consider allocating to a diversified portfolio that includes private real estate investments which could reduce volatility, given low correlations to more traditional investments. Furthermore, investing in a fund provides two compelling factors for consideration, especially in a volatile market. A fund is professionally managed and offers the potential for built-in diversification. These factors may remove the onus from the investor to time investments across the market cycle's four phases.

Investing in Jamestown Invest 1, LLC's common shares is speculative and involves substantial risks. The Risk Factors section of the offering circular contains a detailed discussion of risks that should be considered before you invest. These risks include, but are not limited to, illiquidity, complete loss of invested capital, limited operating history, conflicts of interest, blind pool risk, and any public health emergency. In addition to the foregoing risks, the adverse economic effects of the COVID-19 pandemic are unknown and could materially impact this investment. Further, there is no assurance that Jamestown Invest 1, LLC will be able to achieve its investment objectives or to access targeted investments like those identified.

Educational Communication
The views expressed above are presented only for educational and informational purposes and are subject to change in the future. No specific securities or services are being promoted or offered herein.
Not Advice
This communication is not to be construed as investment, tax, or legal advice in relation to the relevant subject matter; investors must seek their own legal or other professional advice.
Performance Not Guaranteed
Past performance is no guarantee of future results. Any historical returns, expected returns, or probability projections are not guaranteed and may not reflect actual future performance.
Risk of Loss
All securities involve a high degree of risk and may result in partial or total loss of your investment.
Liquidity Not Guaranteed
Because of the illiquid nature of our shares, you should purchase our shares only as a long-term investment and be prepared to hold them for an indefinite period of time.



Jamestown Invest is a digital platform that connects investors with rigorously-vetted, institutional-quality real estate. Invest alongside a well-capitalized, stable, and reliable manager with $12.1 billion of assets under management worldwide on behalf of more than 80,000 investors across 31 realized funds (as of December 31, 2020).