4th Quarter 2020 Reporting
Posted by
Jamestown Invest
on January 15, 2021

Each quarter, investors receive Jamestown Invest 1, LLC's reporting. This week, our investors received the quarterly report for the period ending December 31, 2020. We thought you might also be interested in reviewing progress on the repositioning of Southern Dairies at Ponce City Market. The report also includes a letter from Jamestown CEO, Matt Bronfman, details our updated net asset value and other important blog posts from the year.
Report Highlights
Asset Updates - Southern Dairies at Ponce City Market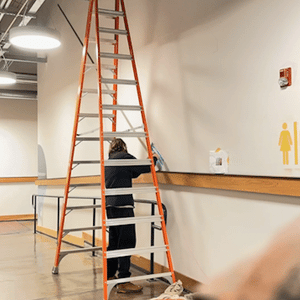 The asset's repositioning was completed on budget for a total of $700k in December 2020. The before and after photos are provided within the report and demonstrate the in-house capabilities of Jamestown's creative, architectural, and construction teams who designed, curated, and executed these upgrades. This quarter's report breaks down each completed initiative and its impact.
Reporting and Collections
We are pleased to report rent collections of 100% for the fourth quarter of 2020. Our asset management teams has worked closely with tenants impacted by the COVID-19 pandemic to understand their needs and are assisting all tenants in ongoing re-opening procedures. As of December, eight of ten tenants currently have employees working in their space at the property.
Net Asset Value (NAV) per Share Update
Incorporating all applicable components of our NAV resulted in a $0.06, or 0.6% increase per share compared to the prior quarter. Our purchase price will be adjusted to reflect our NAV of $10.00 per share beginning on January 14, 2021.
Create an account to access the full report and learn how you can invest alongside Jamestown in commercial real estate.

Investing in Jamestown Invest 1, LLC's common shares is speculative and involves substantial risks. The Risk Factors section of the offering circular contains a detailed discussion of risks that should be considered before you invest. These risks include, but are not limited to, illiquidity, complete loss of invested capital, limited operating history, conflicts of interest, blind pool risk, and any public health emergency. In addition to the foregoing risks, the adverse economic effects of the COVID-19 pandemic are unknown and could materially impact this investment. Further, there is no assurance that Jamestown Invest 1, LLC will be able to achieve its investment objectives or to access targeted investments like those identified.

Educational Communication
The views expressed above are presented only for educational and informational purposes and are subject to change in the future. No specific securities or services are being promoted or offered herein.
Not Advice
This communication is not to be construed as investment, tax, or legal advice in relation to the relevant subject matter; investors must seek their own legal or other professional advice.
Performance Not Guaranteed
Past performance is no guarantee of future results. Any historical returns, expected returns, or probability projections are not guaranteed and may not reflect actual future performance.
Risk of Loss
All securities involve a high degree of risk and may result in partial or total loss of your investment.
Liquidity Not Guaranteed
Because of the illiquid nature of our shares, you should purchase our shares only as a long-term investment and be prepared to hold them for an indefinite period of time.



Jamestown Invest is a digital platform that connects investors with rigorously-vetted, institutional-quality real estate. Invest alongside a well-capitalized, stable, and reliable manager with $12.1 billion of assets under management worldwide on behalf of more than 80,000 investors across 31 realized funds (as of December 31, 2020).