Emerging Tech in Commercial Real Estate: Hello Alfred and HqO
Posted by
Jamestown Invest
on July 29, 2020

Innovation is a key part of Jamestown's approach to business. Jamestown actively searches for and engages technology companies that are advancing tech-based services in the commercial real estate realm.
These investments target opportunities that may lead to direct appreciation at the portfolio level in addition to R&D into strategic categories. Investments to date include both direct and fund investments, including Fifth Wall Ventures, a venture capital firm focused on real estate technology, XRC Labs, a disrupter in the retail technology and consumer goods sectors, and most recently, Redesign Health, a healthcare innovation platform launching consumer health and retail businesses.
Seeking to deliver differentiated tenant experiences, Jamestown identified an opportunity to invest in technology platforms that aim to improve communication, operations, and services across our commercial and multifamily properties. We ultimately invested in two technology investments that positioned us as an early mover in the category: HqO and Hello Alfred. In addition to investing in these businesses, we became the pilot real estate partner for both, helping to incubate their platform from early stages to mature, category leaders across the real estate industry. Our relationships with both platforms illustrate our commitment to being a partner and accelerant to real estate innovation.
Hello Alfred
Voted into Fast Company's "Top 10 Most Innovative Companies in Real Estate of 2020," Hello Alfred is on a mission to change the way we live in cities. The residential assistant program combines powerful proprietary technology with concierge services to allow members to outsource everyday chores, from housekeeping, to grocery-shopping, to booking a handyman or dog walker, freeing up time in the busy lifestyle of today's tenant.
Hello Alfred's mobile platform consolidates tenant services and support in one place, making it easy for residents to book a concierge service, report an issue in their unit, pay rent, connect with other tenants, or communicate directly with the property management team. In turn, property management can be more efficient, as the app creates one channel of communication with tenants and delivering important building-wide information is instantaneous and efficient.
Hello Alfred is currently available at Jamestown's 88 Leonard in New York City, The Flats at Ponce City Market in Atlanta, and The Ellington in Washington, D.C. These properties are not owned by or a target for Jamestown Invest 1, LLC. They are not representative of Jamestown Invest 1, LLC's investment strategy and are not representative of the scale of investments that Jamestown Invest 1, LLC intends to make.
HqO
HqO helps bridge the gap between tenant and landlord at office properties across the globe and is a fast growing office tenant experience technology and services company. Jamestown's involvement with HqO is threefold: the company is a tenant at the Innovation and Design Building (IDB) in Boston, their services are utilized by the IDB's property management team, as well as at other Jamestown properties, and we invested financially in the startup. The company offers an end-to-end operating system for commercial office buildings called HqOS, a team of tenant experience experts providing professional services, an award-winning mobile app, and a Marketplace where landlords and property management can connect with amenity service providers.
Seven Jamestown properties have adopted the HqO app: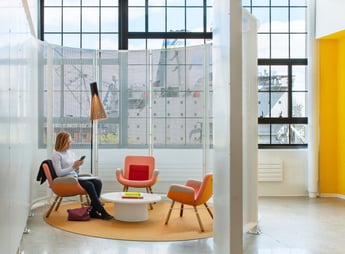 -The IDB in Boston, MA

-Ponce City Market in Atlanta, GA

-Industry City in Brooklyn, NY

-Ballston Exchange in Arlington, VA

-Chelsea Market in New York City, NY

-Levi's Plaza in San Francisco, CA

-Southern Dairies @ Ponce City Market in Atlanta, GA
The HqO-powered mobile app provides four key benefits to office tenants:
1. Communication


HqO's app creates a line of communication between individual employees and property management teams, notifying them of important property updates, events and programming, and health and safety measures, among other things.

2. Services and Experiences


Through HqO's Marketplace of partners, properties are able to curate services to offer on campus, from health and wellness, to flex office space, to transit. All Jamestown property apps include a transit tab that connects tenants to shuttles, bus and subway line information, and even scooter share services through micro-mobility partnerships.
3. Commerce and Community Activation
Connecting tenants through the HqO app helps community members support each other and create a thriving campus ecosystem. At the IDB in Boston, office tenants can order to-go food from restaurants at the property through the HqO app, providing a seamless, no-contact interface connecting office to retail.
4. Interoffice Connection
HqO offers the ability to connect office tenants to each other through a marketplace in the app, where tenants can post jobs, exchange services, sell furniture to each other, and more, further promoting a campus culture of collaboration and mutual support.
HqOS offers a wealth of data to landlords and facilitates data-driven decision-making at the asset level, creating smarter, more responsive properties with services that reflect the real needs and desires of their communities. Except for Southern Dairies @ Ponce City Market, all the above listed properties are not owned by or targets for Jamestown Invest 1, LLC. They are not representative of Jamestown Invest 1, LLC's investment strategy and are not representative of the scale of investments that Jamestown Invest 1, LLC intends to make.
Jamestown Invest
Jamestown has been internally incubating another innovative concept: a digital investment platform opening access to commercial real estate with a minimum investment of $2,500 for individuals.
With Jamestown Invest, investors can consider diversifying their portfolios with commercial real estate, and the opportunity is available to almost any American investor who meets certain suitability requirements. By taking investing online, Jamestown Invest aims to make investing easy with a simple, three-step process.
Investing in Jamestown Invest 1, LLC's common shares is speculative and involves substantial risks. The "Risk Factors" section of the offering circular contains a detailed discussion of risks that should be considered before you invest. These risks include, but are not limited to, illiquidity, complete loss of invested capital, limited operating history, conflicts of interest, blind pool risk, and any public health emergency. In addition to the foregoing risks, the adverse economic effects of the COVID-19 pandemic are unknown and could materially impact this investment. Further, there is no assurance that Jamestown Invest 1, LLC will be able to achieve its investment objectives or to access targeted investments like those identified.
Securities offered through North Capital Private Securities Corporation, member FINRA/SIPC.

Jamestown Invest is a digital platform that connects investors with rigorously-vetted, institutional-quality real estate. Invest alongside a well-capitalized, stable, and reliable manager with $12.1 billion of assets under management worldwide on behalf of more than 80,000 investors across 31 realized funds (as of December 31, 2020).