Commercial Real Estate Lifecycles: The Jamestown Way
Posted by
Jamestown Invest
on September 16, 2020

Jamestown real estate assets pass through four familiar stages of a commercial property's lifecycle:
-Acquisition

-Repositioning

-Stabilization

-Disposition
There are key differences in approach and execution that set Jamestown apart, namely our vertically-integrated operating platform. This post will give an overview of a typical asset lifecycle at Jamestown, highlighting the high-touch approach we are able to give through vertical integration. Keep an eye out for future posts that will explore some of these stages in more depth, as well as the departments involved and the team members who lead value creation.
Vertical Integration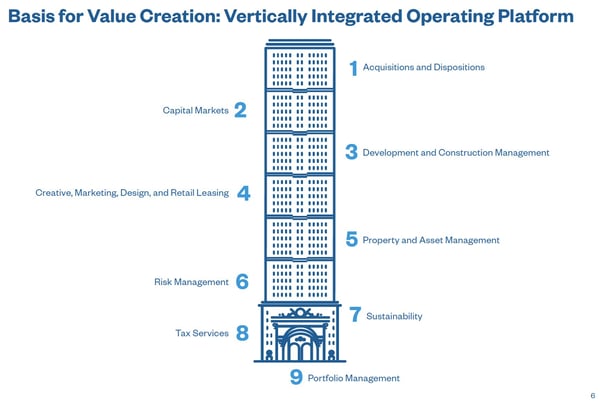 Jamestown is uncommon among real estate investment firms in that we are both the investor and the manager of our assets. Whereas many other investment firms act as allocators and partner with third-party operating entities, as a general rule, Jamestown prefers to directly manage each stage of an asset's lifecycle within the company. The multi-disciplined in-house team of professionals in acquisitions, capital markets, development and construction, retail leasing, design, marketing, asset management, property management, sustainability, risk management, and portfolio management collaborates from acquisition through disposition to maximize opportunities and minimize risks. This cohesive, collaborative process allows for deeper and broader applications of Jamestown-specific principles, such as a focus on design and creating spaces that are innovation hubs and community centers. Our fully integrated approach allows for value creation with Jamestown team members every step of the way in an asset's lifecycle.
Step One: Acquiring an Asset
Before an asset is acquired, Jamestown's Acquisitions team leads a collaborative effort, incorporating all in-house disciplines, and applies rigorous underwriting standards to the 200 to 300 potential investment opportunities it has historically reviewed each year. This has resulted in Jamestown closing fewer than 3% of the investments it evaluates. We actively seek opportunities that lend themselves to our goal of driving value at non-commodity real estate properties. Jamestown has built a reputation in particular for adaptive reuse projects that utilize existing structures and create distinct community destinations.
After the Acquisitions team identifies a target asset that meets the strategic requirements of the corresponding fund making the acquisition, the due diligence process examines the S.W.O.T. of the property: the Strengths, Weaknesses, Opportunities, and Threats. The team also develops an initial business plan for the property, and upon approval by our Investment Committee, the Capital Markets team works on capitalizing the project with debt-financing from a lender, negotiating loan terms and interest rates that achieve the underwriting objectives. As the acquisition is finalized, an Asset Manager begins the process of building a team to execute the business plan.
Step Two: Executing the Business Plan
Similar to the quarterback of a football team, Asset Managers take the initial business plan and underwriting from the Acquisitions stage and bring it to life. They are responsible for executing a plan to achieve the goals for the asset. They also quantify how we will potentially create value throughout the lifecycle of the project. In the transition from target asset to acquisition, Asset Managers work with our Creative & Marketing and Construction & Development departments to propose brand repositioning, potential capital improvements, and an overall end-user experience that seeks to elevate the property to its highest and best use. In assembling the property team, Asset Managers ask: how will we create a compelling environment where our target customers want to visit often to be inspired and feel uplifted?
Each property's team can consist of people with a variety of skills. For example, a property with proposed capital improvements would include Construction & Development team members, or a property with available space would engage Jamestown Realty's leasing professionals. A fully-leased space might just need a rebrand from the Creative & Marketing team and some targeted place-making through public art or improved landscaping to increase demand and increase rent revenue over time. Each of these resources and more are housed within Jamestown, making for a seamless, interdepartmental collaboration well-versed in Jamestown's brand pillars.
Jamestown believes in hands-on asset management with frequent property visits, regular communication with the rest of the property team, and ongoing review of asset performance. Each asset is also assigned a Property Analyst, who assists the Asset Manager in maintaining best practices, analyzing property performance, reforecasting, and making recommendations to the Investment Committee of any proposed strategic shifts. On-the-ground Property Management teams contribute to our management-intensive approach by actively responding to tenant needs and proactively engaging in tenant relations, allowing Jamestown to build solid relationships with tenants that can create partnerships and potentially aid in smooth leasing renewal processes.
Step Three: Repositioning to Stabilization
At this stage, Jamestown's vertically-integrated approach really gets to shine as the property team works in concert to create value and stabilize the property. As described earlier in this post, unlike other investment management firms, Jamestown handles most of our assets' property management and operations in-house rather than outsourcing to third parties, with a few exceptions. In addition to liaising with tenants, the Property Management team is responsible for maintaining property operating budgets, interfacing with the broader community, monitoring and enforcing compliance with leases, and more. Property Management often works closely with the Creative & Marketing team to develop event programming and offer marketing resources and training to tenants. The Construction & Development team members work with Creative & Marketing professionals to design proposed property improvements, and Jamestown Green collaborates with all property teams to research and implement sustainable practices. Each of these activities seek to add value by increasing long-term cash flow in three ways:
1. Invest in capital improvements such as completing renovations, enhancing building systems, and adding amenities;

2. Increase revenue through negotiating new leases at higher rates;

3. Reduce expenses through increased efficiency of building operations and sustainable practices that decrease utility costs over time.
While the team works to increase the net operating income of the property by increasing revenue and decreasing expenses, they also seek ways to increase value by being responsible community members and stewards of the environment, in keeping with Jamestown's guiding principle of Responsibility. This goal of multidimensional returns seeks to lift our communities along with our properties, through programs such as the Jamestown Charitable Foundation and investing in city projects like the Atlanta BeltLine and New York City High Line.
Step Four: Disposition
Throughout the lifecycle of an asset, Jamestown continually evaluates and monitors potential exit opportunities to ensure value optimization. Asset Managers employ a rigorous, ongoing reporting cycle in which they are constantly evaluating the financial performance of a project against its business plan. Based on these analyses, the property team makes changes intended to reduce risk and increase cash flow until it is determined that the business plan has been accomplished. Once we've created all the value we can, weighed against the objectives and term of the fund, it's time to start thinking about selling. Finding the right time to sell depends on a number of things. The Capital Markets, Acquisitions, and Asset Management teams collaborate to establish the value of the asset through a hold/sell analysis based on rigorous re-underwriting, considering the risks and benefits of continued ownership. These strategic asset reviews are supplemented by market intelligence of sales and leasing activity and the depth of buyers to reconcile prevailing market pricing with the approved business plan's underwriting goals.
If it is the right time to sell, a robust marketing process begins with an offering memorandum and then a bidding process through a broker often helps us find a buyer. After the asset is sold, the fund will distribute any potential net proceeds back to the investors based on the process outlined in the fund documents.
What is the investor's role?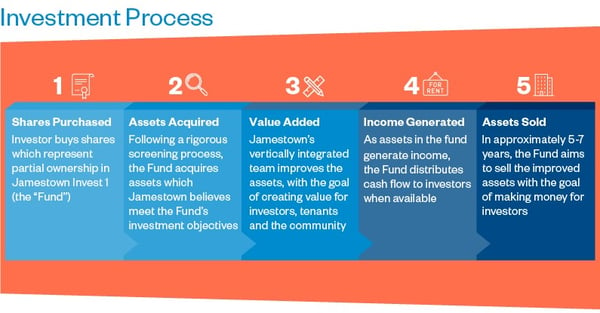 Investors play a fundamental role in an asset's lifecycle by investing the capital used to begin the entire process we've described. Without investors, there is no fund, no assets, no lifecycle. When an investor buys shares in a fund, Jamestown invests that capital in real estate and puts the money to work through the approach described in this post. Throughout the process, a team of dedicated investor relations professionals provides investors with detailed information on both the current status and future prospects of investments through quarterly and annual reports and constant transparent communication. Regular investment status updates often include highlights of how we're creating value at the property level through Jamestown's singular vertically-integrated approach to value creation. As an example, you can read the most recent Property Update from Jamestown Invest 1, LLC's acquisition, Southern Dairies @ Ponce City Market in your Investor Portal or read the blog post.
Questions about our investment process, vertically-integrated approach, or something else? Drop us a line and we may answer your question on the blog.
Disclaimer
Educational Communication
The views expressed above are presented only for educational and informational purposes and are subject to change in the future. No specific securities or services are being promoted or offered herein.
Not Advice
This communication is not to be construed as investment, tax, or legal advice in relation to the relevant subject matter; investors must seek their own legal or other professional advice.
Performance Not Guaranteed
Past performance is no guarantee of future results. Any historical returns, expected returns, or probability projections are not guaranteed and may not reflect actual future performance.

Risk of Loss
All securities involve a high degree of risk and may result in partial or total loss of your investment.
Liquidity Not Guaranteed
Because of the illiquid nature of our shares, you should purchase our shares only as a long-term investment and be prepared to hold them for an indefinite period of time.

Jamestown makes no representations, express or implied, regarding the accuracy or completeness of this information, and the reader accepts all risks in relying on the above information for any purpose whatsoever. Any actual transactions described herein are for illustrative purposes only and, unless otherwise stated in the presentation, are presented as of underwriting and may not be indicative of actual performance. Transactions presented may have been selected based on a number of factors such as asset type, geography, or transaction date, among others. Certain information presented or relied upon in this presentation may have been obtained from third-party sources believed to be reliable, however, we do not guarantee the accuracy, completeness or fairness of the information presented.
Investing in Jamestown Invest 1, LLC's common shares is speculative and involves substantial risks. The "Risk Factors" section of the offering circular contains a detailed discussion of risks that should be considered before you invest. These risks include, but are not limited to, illiquidity, complete loss of invested capital, limited operating history, conflicts of interest, blind pool risk, and any public health emergency. In addition to the foregoing risks, the adverse economic effects of the COVID-19 pandemic are unknown and could materially impact this investment. Further, there is no assurance that Jamestown Invest 1, LLC will be able to achieve its investment objectives or to access targeted investments like those identified.
Information on and photography featuring Jamestown's current and previous portfolio of projects and properties are not representative of Jamestown Invest 1, LLC's investment strategy and are not representative of the scale of investments that Jamestown Invest 1, LLC intends to make. Further, there is no assurance that Jamestown Invest, 1 LLC will be able to achieve its investment objectives or to access investments like those identified. Prior performance is not indicative of future results.

Jamestown Invest is a digital platform that connects investors with rigorously-vetted, institutional-quality real estate. Invest alongside a well-capitalized, stable, and reliable manager with $12.1 billion of assets under management worldwide on behalf of more than 80,000 investors across 31 realized funds (as of December 31, 2020).