Connecting Neighborhoods through Greenways: The Atlanta BeltLine and New York City's High Line
Posted by
Jamestown Invest
on July 20, 2020

Jamestown has long recognized the importance of community and sustainability to its business. Simply put, healthy communities add value to our properties. As part of this commitment to sustainability and social responsibility, Jamestown supports two significant greenway initiatives in Atlanta and New York City: the Atlanta BeltLine and the High Line.
The Atlanta BeltLine will ultimately connect 45 neighborhoods to Southern Dairies @ Ponce City Market, the first asset acquired by Jamestown Invest 1, LLC, and Ponce City Market, owned and managed by Jamestown. Both of these properties are located on the completed Eastside Trail. In New York City, the High Line passes directly through Chelsea Market, which is managed but not owned by Jamestown, on its nearly 1.5-mile route along the West Side. Ponce City Market and Chelsea Market are not owned by or targets for Jamestown Invest 1, LLC. They are not representative of Jamestown Invest 1, LLC's investment strategy and are not representative of the scale of investments that Jamestown Invest 1, LLC intends to make.
The Atlanta BeltLine
Over the last 20 years, the Atlanta BeltLine has grown from an idea to rapidly materializing reality due to significant investment from the City of Atlanta and private sector sponsorships. The Atlanta BeltLine is one of the largest and most wide-ranging urban redevelopment programs in the United States, and the largest ever undertaken in the city of Atlanta, with multiple high-impact project goals, including:
-Pedestrian-friendly rail transit to connect to existing MARTA lines

-$10 billion of economic development, including 5,600 units of affordable housing

-1,300 acres of new greenspace

-30,000 permanent jobs
Public art is an important component of the project, with more than 450 art installations and live performances spanning seven miles of trail on the east and west sides of Atlanta.
At its current stage of development, the BeltLine has delivered 33% of its proposed 33 mile network of multi-use trails. More than 2 million people visited the Atlanta BeltLine's trails in 2018, indicating the popularity of alternative transit options and green spaces. Six trails are open, including the Eastside Trail, which passes by Southern Dairies @ Ponce City Market and Ponce City Market.
Jamestown is a financial supporter of the BeltLine, having committed over $500,000 over a five year period in addition to an in-kind donation valued at $228,000 to the BeltLine for the Atlanta Regional Commission's Livable Centers Initiative project. Jamestown's Ponce City Market has contributed to several BeltLine initiatives, including: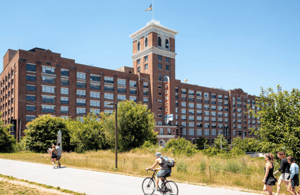 -2019/2020 Adopt-the-Atlanta-BeltLine
-FY20 Art on the Atlanta BeltLine
-2020 Health and Fitness
-2019 Lantern Parade
Jamestown CEO Matt Bronfman serves on the board of the Atlanta BeltLine Partnership.
The High Line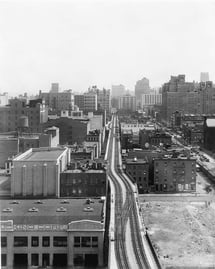 Originally built as the "West Side Elevated Line" in 1933, the elevated railway carried millions of tons of meat, dairy, and produce up and down New York City's West Side along 10th Avenue, even cutting through buildings, including the Nabisco factory, today's Chelsea Market. The rail line fell into disuse by the 1980s and the structure was left to itself, overgrown and inaccessible. In 1999, Friends of the High Line was founded, a non-profit conservancy dedicated to the preservation and reuse as a public space of what had become a garden of wild plants. Between 2004 and 2006, CSX Transportation donated ownership of the structure to the City of New York and the area was rezoned for use as a public park. In 2009, the first segment of the High Line opened to the public, with a second section opening in 2012, and the third following in 2014. The 1.45-mile-long greenway features over 500 species of plants and trees, site-specific artworks, and open-air performances.
An Ideas Competition launched in 2003 brought awareness to the project and generated over 700 entries from 36 countries. In 2004, the team of James Corner Field Operations, Diller Scofidio + Renfro, and Piet Oudolf won the Design Competition that then awarded them the project. The design work, community input, preparation, and construction of each section of the High Line took two years to complete. Design features include overlooks, plazas, a woodland, passages through buildings, including Chelsea Market, seating, and areas for play. At the southern end of the trail at Gansevoort Street, the Tiffany & Co. Foundation Overlook sits east of the Whitney Museum of American Art and the offices of Friends of the High Line. At the northern end at 34th Street, the Interim Walkway brings the High Line to street level, making it an easy access point from the nearby subway and bus lines.
The success of the High Line's redevelopment has extended beyond the project itself in the establishment of the High Line Network, a group of infrastructure reuse projects that leverages the knowledge of its members to create truly equitable public spaces that benefit cities socially, environmentally, and economically. The Sustainable Gardens Project supports innovative urban gardening projects focused on cultivating pollinator plants across New York City.
Jamestown's President, Michael Phillips, is a member of the Board of Directors for the High Line, and Jamestown is a supporter through annual giving. With offices at Chelsea Market, Jamestown's New York-based employees are well-acquainted with the benefits of the High Line as a convenient greenspace and venue for public programming.
Jamestown supports the goals of both these initiatives as they complement our own Guiding Principles as an organization:
-Integrity

-Excellence

-Innovation

-Passion

-Responsibility
These principles guide us as we build a best-in-class real estate investment management company, resulting in a stable and thriving organization for the long-term benefit of our employees and investors.
High Line images via highline.org/history.
Investing in Jamestown Invest 1, LLC's common shares is speculative and involves substantial risks. The "Risk Factors" section of the offering circular contains a detailed discussion of risks that should be considered before you invest. These risks include, but are not limited to, illiquidity, complete loss of invested capital, limited operating history, conflicts of interest, blind pool risk, and any public health emergency. In addition to the foregoing risks, the adverse economic effects of the COVID-19 pandemic are unknown and could materially impact this investment. Further, there is no assurance that Jamestown Invest 1, LLC will be able to achieve its investment objectives or to access targeted investments like those identified.

Jamestown Invest is a digital platform that connects investors with rigorously-vetted, institutional-quality real estate. Invest alongside a well-capitalized, stable, and reliable manager with $12.1 billion of assets under management worldwide on behalf of more than 80,000 investors across 31 realized funds (as of December 31, 2020).